Surrender: Ammolite Wire Wrapped Healing Crystal Pendant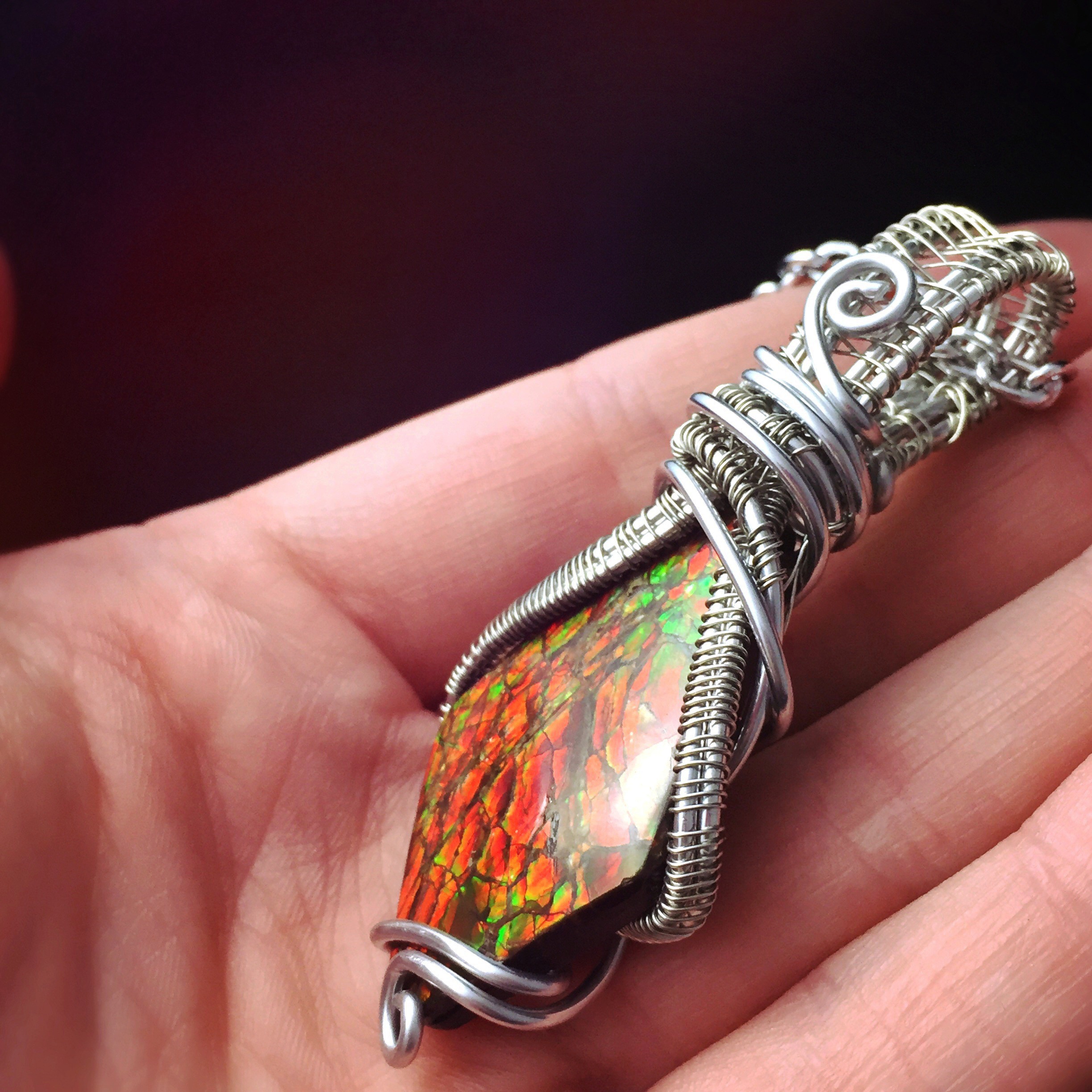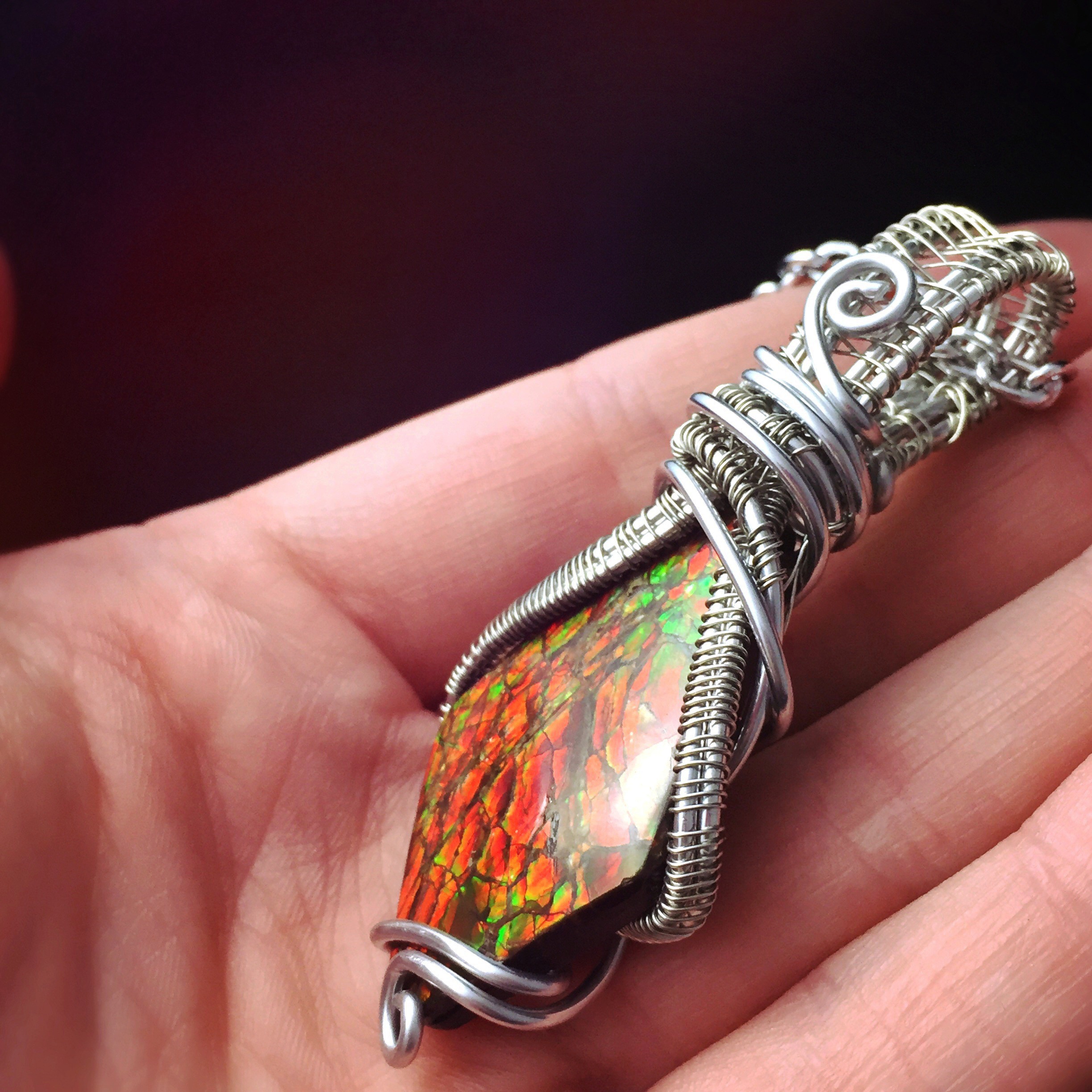 sold out
Surrender: Ammolite Wire Wrapped Healing Crystal Pendant
Frees from past, helps slow down change, transforms bad energy into positive energy.
Overview
Handmade item
Materials: Silver Plated Wire, Divine Energy, Ammolite
Ships worldwide from United States
This pendant comes fully charged and cleared. This pendant is 2.5 inches long. Please note that the while the crystal carries metaphysical properties, they are not promised to work for everyone and are certainly not healthcare information.
Additional fees may apply to shipping outside of the United States.
Ammolite is not as common as most crystals. It has a beautiful flash of color, unlike any other stone. It may resemble labradorite or spectrolite, but the two are nowhere near the same. Ammolite is similar to ammonite in that it grows like a spiral. For this reason, they share similar properties. However, this crystal is one of a kind! When you hold it in a certain light, you unlock all of its mystifying colors and shimmers.
SPIRITUAL HEALING PROPERTIES OF AMMOLITE
Ammolite can help shift your consciouness and raise your vibration. This healing crystal can awaken your chakras, kundalini energy, your sense of purpose. This crystal can unlock universal abundance and let it flow into your life. Ammolite is an amazing healing stone for helping your surrender control. It can help your transformation by unlocking your ability to let go of the past and expectations of the future so you can live your life to the fullest. This healing crystal can help you trust the Divine power of your belief, and can help you let go of control. It will help you experience miracles and transformations. Although they may not happen instantly, this crystal is said to promise a transformative change. This healing stone is said to help attract prosperity and wealth in all forms. Ammolite can also help you tap into past lives.
PHYSICAL HEALING MEANING OF AMMOLITE
It is said that wearing an Ammolite crystal can help you experience a physical transformation of change. Like most crystals, set your intention and watch it unfold. This healing stone is said to induce stamina and vitality. This healing crystal is also said to help detoxify the body. It has also been stated that Ammolite can rid exhaustion. Wear this stone when you need a boost of energy to keep you going.
MENTAL HEALING MEANING TO AMMOLITE
Ammolite is said to rid mental exhaustion. Wear this stone when you need a boost of energy for a strenuous mental task. It can help eliminate distractions. Ammolite can help you think positive and look for reasons to be grateful. This healing stone can promote the flow of thought.
EMOTIONAL HEALING PROPERTIES OF AMMOLITE
Ammolite is very useful in the healing of depression and suffering. It is said to help release trauma. If you suffer from PTSD, this healing stone may be the boost you are looking for on your healing journey. This crystal can also help those who struggle with anxiety by helping you let go of the idea that you can control others/the world around you. Ammolite is one of the best healing stones for improving your mood.